Note: The following interview previously appeared in
Boston Sports Review
.
Tara Mardigan
cares about what Wily Mo Pena does at the plate. She also cares about whatís on his plate. The Red Sox team nutritionist, Mardigan helps ensure that Pena, and the rest of the players in the organization, optimize their performance by making healthy food choices. A 33-year-old former gymnast, Mardigan has two masterís degrees from the Friedman School of Nutrition Science and Policy at Tufts University, and is also employed as a senior nutritionist at the Dana-Farber/Brigham and Womenís Cancer Center. We chewed the fat with Tara about the eating habits and nutritional goals of some of the players she works with, including Wily Mo, Big Papi, and Jon Lester.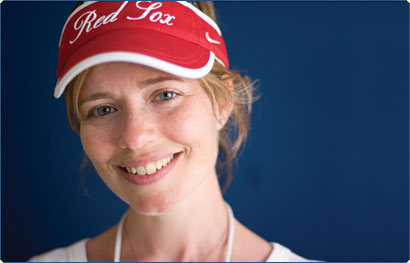 Boston Sports Review:
How did you become the team nutritionist for the Red Sox?
Tara Mardigan:
This is my first year working with the whole team, although it really started a few years ago when Curt Schilling was deciding whether he was going to come to Boston or go to the Yankees. Curt was talking to Roger Clemens, and Roger told him that if he wanted to succeed at this age, hiring a nutritionist would be very helpful. I had already been working with Larry Lucchino, who is a cancer survivor, and when Curt asked for a nutritionist after coming here, the team flew me down to spring training to work with him. Other players began asking me questions, too, and last year I was approached by the team about working with the entire organization.
BSR:
I understand that getting Wily Mo Pena to eat vegetables is one of your biggest challenges.
Mardigan:
Wily Mo definitely doesn't like vegetables. The closest we got was getting some broccoli in his mouth, but he spit it out with the velocity of the home run he hit into the Monster seats earlier this year; the one that got out in about two seconds. He says he won't start eating vegetables until his body fat hits 10 percent.
BSR:
What are David Wells' eating-habits like?
Mardigan:
He eats pretty well, believe it or not. Of course, I'm not sure what he's drinking. But he's a nice guy. He set me up with tickets to a game, and when I told him that I was taking a bunch of Dana-Farber nurses with me, he asked, "Are they hot?" That was classic David Wells.
BSR:
Who are the most dedicated healthy-eaters in the Red Sox clubhouse?
Mardigan:
Gabe Kapler, for sure. Mike Lowell is another. What's funny, though, is that during the season, pretty much anything goes with Mike. But during the off-season, he wants to be real precise with what he eats. A lot of the guys want off-season programs, and a number of them have personal chefs. Mike is really serious about it. When he sees things on the menu he doesn't like, he'll ask for options. Calorically, he'll be interested in what's comparable to the mathematical teeth of three slices of avocado.
BSR:
What are some of the most common misconceptions that players have about nutrition?
Mardigan:
One is the whole ďcarbohydrates make you fatĒ thing. Cutting down on them isnít a good idea for athletes, because carbs produce energy. Something like the Atkins Diet is bad for them, because theyíll lose weight but also run out of gas faster. The first time I ran the Boston Marathon, I remember going up Heartbreak Hill and thinking that it was the hardest thing I had ever done. Then a woman, who looked to be around 60 or 70, with a little flab around her sports bra, passed me. So itís not really about weighing less; itís about being healthy and able to perform at the highest level possible. And if you do want to lose weight, you donít want it to be more than a pound or two a week, because that can affect your mechanics. Thereís actually a certain weight Curt doesnít want to get below because a change of body-weight can affect your physics.
BSR:
I understand that Curt once called you from a Taco Bell, looking for advice on what to order. What did he end up having?
Mardigan:
I canít remember outside of the fact that he had lettuce on everything, but he did call from Arizona. I believe he was on his way back from working out at Athleteís Performance, and I still have the message on my voice mail. I wasnít able to take the call, because I was at work. When I got back to him, Curt joked that he must not have been important enough for me to answer, but I had been working with a young adult who had a brain tumor, so he understood.
BSR:
Jon Lester is currently undergoing treatment for lymphoma. How will that impact his nutrition and conditioning needs?
Mardigan:
Weíre going to have to work really hard on it. By ďweĒ I mean everyone involved with his life from the medical staff to his family. Heís young, but chemo is harsh, and fatigue affects both appetite and mood. It can touch many aspects of your life. My job will be to help make sure that Jon meets his calorie and protein needs, because we want him to be working out while heís undergoing treatment. We donít want him to be lifting weights for the first time in the spring. We want him to be as strong as possible when heís ready to get back to playing baseball.
BSR:
Getting back to food choices, David Ortiz is famous for his diet of chicken, rice and beans. Is that good?
Mardigan:
Sure. Looking at what heís done, Iíd say itís working pretty well. Letís put it this way: we arenít going to change that. For one thing, itís a cultural staple, and what matters most is the amount you eat. If itís in moderation, I can justify just about anything. Try me!
BSR:
How about Babe Ruth? What would you do with him?
Mardigan:
Where is he, with the Red Sox or the Yankees? No, seriously, there are certain things guys wonít change, and you work from there. Iíd let Babe smoke all the cigars and drink all the beer and whiskey he wantedÖ.as long as he ate his fruits and vegetables!